Ηλεκτρονικά Μιμίκος
Οδός Ρούμελης, Λιβαδειά, 32100, Ελλάδα, Ελλάδα
Τηλ: 2261026435 & 2261081666
Fax: 2261024817
E-Mail: info@emimikos.gr
---
URL: http://www.emimikos.gr/Western-Digital-WDD032G1P0C-Ultra-Endurance-microSD-WD-Purple-32GB/
---
Western Digital WDD032G1P0C Ultra Endurance microSD WD Purple 32GB
---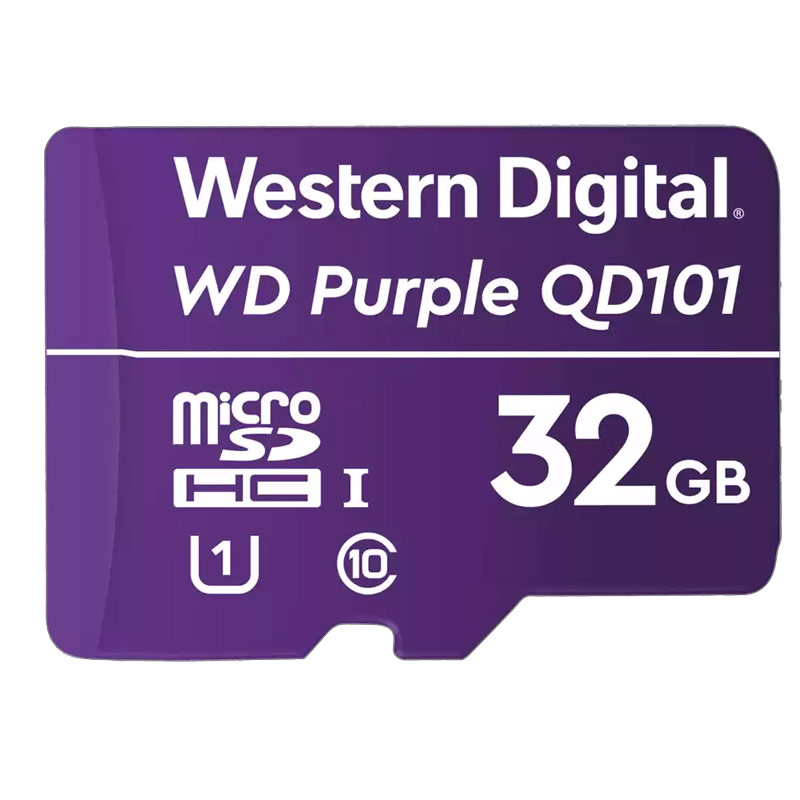 Λεπτομέρειες
---
Διάρκεια Εγγύησης
36 Μήνες
---
Description
---
Western Digital WDD032G1P0C Ultra Endurance microSD WD Purple 32GB
Οι κάρτες WD Purple microSD είναι ειδικά σχεδιασμένες για κάμερες παρακολούθησης. Έχουν εξαιρετική αντοχή, είναι ανθεκτικές στην υγρασία και μπορούν να λειτουργήσουν σε θερμοκρασίες από -25°C ως 85°C ώστε να εξασφαλίζεται η αδιάκοπη λειτουργία τους σε ακραίες καιρικές συνθήκες και κλίματα.
Βασικά Χαρακτηριστικά:
Optimized for video surveillance cameras that operate 24/7

Designed with ultra endurance for continuous operation

Weather-resistant, humidity resistant, and withstands temperatures from -25°C to 85°C

Failover local storage, continuous recording, even in case of a temporary camera disconnection

Supports card health monitor functionality

Advanced 96-layer 3D NAND Technology
---
✓ It's WD Purple
Designed for Surveillance.Being a member of a market-leading brand gives you assurance that this card is designed with the right robustness, performance and features for always-on security video cameras and edge devices.

✓

Put More Confidence in Your Cameras

Ultra Endurance.WD Purple SC microSD cards are designed for continuous 24/7 recording should cameras lose connection with the NVR, providing additional confidence in your security video solution.

✓

Smart Storage Maintenance

Card Health Monitoring.In compatible cameras, the card health monitoring capability allows you to get notified about the health status of your WD Purple microSD card, so you can perform preemptive storage management.

✓

Robust Storage, Indoors or Outdoors

Supports -25°C to 85°C temperature range; humidity resistant.Have peace of mind that this card is designed for continuous operation in extreme weather conditions and in a variety of climates.

✓

Continuous Capture. Hours or Days

Capacities from 32GB to 1TB.Wide range of capacities for different combinations of cameras, resolutions, and recording implementations; use for both motion-triggered and
continuous recording.
---
Τεχνικά Χαρακτηριστικά:
Κατασκευαστής: Western Digital


Τύπος μνήμης: MicroSD

Χωρητικότητα 32GB

Διεπαφή SDA 6.0

Speed ClassSpeed Class 10

UHS Speed Class 1 (U1)

Αντοχή (TBW) Έως και 16

Limited Warranty (years): 3

Θερμοκρασία λειτουργίας -25°C έως 85°C

WD Purple MicroSD Datasheet