Ηλεκτρονικά Μιμίκος
Οδός Ρούμελης, Λιβαδειά, 32100, Ελλάδα, Ελλάδα
Τηλ: 2261026435 & 2261081666
Fax: 2261024817
E-Mail: info@emimikos.gr
---
URL: http://www.emimikos.gr/Omnitron/HDMI-8K-1.5m-HDMI-Cable-V2.1-UltraHD-8K-1.5m-HDTV-Cable-V2.1/
---
Omnitron HDMI-8K-1.5m HDMI 2.1 Cable HDMI Male σε HDMI Male έκδοση V2.1 Ανάλυση 8K μήκος 1.5m
---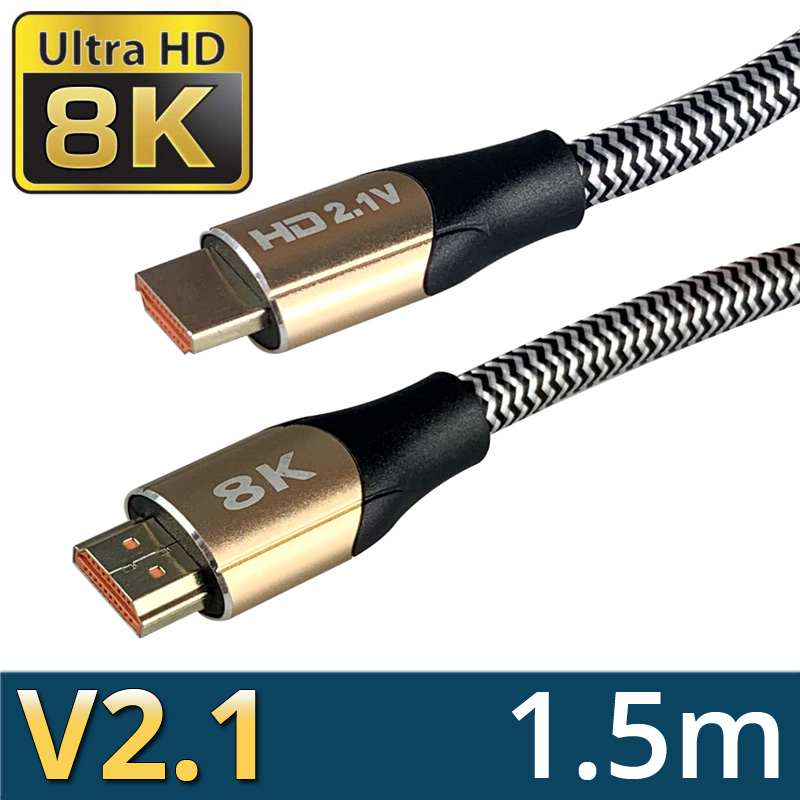 ---
Description
---
Omnitron HDMI-8K-1.5m HDMI 2.1 Cable HDMI Male σε HDMI Male έκδοση V2.1 Ανάλυση 8K μήκος 1.5m
Omnitron HDMI-8K-1.5m Καλώδιο HDMI Αρσενικό σε HDMI Αρσενικό, έκδοσης έκδοσης V2.1 το οποίο μπορεί να υποστηρίξει αναλύσεις μέχρι 8K Ultra HD. Μήκος καλωδίου: 1,5 μέτρα. Υποστηρίζει bandwidth 48Gbps Super High Speed.
Υποστηρίζει αναλύσεις σήματος video μέχρι 8K@60Hz, 4K@120Hz, 4K@60Hz, 1080P@120Hz & 1080P@60Hz, καθώς και ψηφιακό πολυκάναλο ήχο σε όλα τα σύγχρονα format, όπως π.χ HDCP 2.2 & 2.3, DTS:X, Dolby Atmos, Dolby Vision, κλπ.
Κατάλληλο για την σύνδεση της συσκευής σου με την τηλεόρασή σου ή οποιαδήποτε άλλη οθόνη με δυνατότητα HDMI. Η κορυφαία πιστοποίηση καλωδίου HDMI εγγυάται ότι το καλώδιο πληροί τα προηγμένα πρότυπα απόδοσης και ποιότητας που ορίζονται από τους δημιουργούς της τεχνολογίας HDMI

Βασικά Χαρακτηριστικά:
---
➥ HDMI 2.1 Cable: 8K HDMI cable supports the higher resolution of 8K/60Hz FUHD, conforms to the latest tested and certified version of HDMI 2.1, which is very suitable for all devices with HDMI 2.1 standard, and is backward compatible with previous HDMI 2.0, 1.4, 1.3, 1.2 and 1.1.
➥ 8K@ 60Hz HDMI cable: Supports 8K@60Hz, 4K@120Hz UHD, 4K@100Hz, and more, the 8K HDMI 2.1 version cable provides an Ultra HD cinematic experience and 3D visual effects, it is compatible with your streaming devices, Apple TV 4K, NVIDIA SHIELD TV, CD/DVD/Blu-ray players, Fire TV, Roku Ultra, PS5, PS4, PS3, Xbox One/360, Nintendo Switch, computers, or other HDMI-enabled devices to your 4K/HD TV, monitors, displays or projectors.
➥ 48Gbps Super High Speed: 48Gbps bandwidth for latest features HDR, HDCP 2.2 & 2.3, DTS:X, Dolby Atmos, Dolby Vision.Support 3D Video Display, Dynamic HDR, eARC, ALLM, QFT, QMS, VRR. enhance every moment values for depth, detail, brightness, enjoy the ultra High definition ultimate experience of the big screen.
➥ Support Dynamic HDR & eARC: This 8K HDMI cable provides you a more vivid picture with dynamic HDR, supporting Dolby Vision HDR, HDR 10+, etc. It also enables you to enjoy perfect audio fidelity. Enhanced Audio Return Channel enables the use of object-based surround sound formats, such as Dolby Atmos.
---
Τεχνικά Χαρακτηριστικά:
8K@60Hz 48Gbps HDMI 2.1 Cable

28AWG Pure Copper Conductor, 24K Gold Plated Connectors

Length: 1.5m

Up to 8K@60Hz, 4K@120Hz, 4K@60Hz, 1080P@120Hz, 1080P@60Hz

Support HDMI 2.1 / HDCP 2.3 / eARC / VRR / Dynarnic-HDR

Compatible: HDMI 2.1 / HDMI 2.0 / HDMI 1.4

Bandwidth: 48Gbps

Compatible with HDTV, TV Stick, Samsung TV, Apple TV, Roku Stick, Google Chromecast, Blu-Ray Player, 3D Television, AV Receiver, HD Cable Box, Boxee, Xbox360, Xbox One, PSS ,PS4 Pro, PS3 Gaming Station, Wii U, Oculus Rift VR Headset, PlayStation VR Headset, Windows 10 PC Stick And RTX3070, RTX3080, RTX3090 or any HD Device with a Standard HDMI output